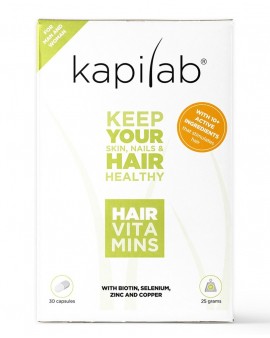  
Kapilab Tablets
Kapilab Vitamins are made up of natural ingredients that improve hair, skin and nails.
| | |
| --- | --- |
| - Gluten free. | - Natural Ingredients. |
| - Healthy Hair. | - 30 capsules |
Description
Kapilab Vitamins are the perfect complement for men and women who want to improve their hair health. Contains natural ingredients to nourish your hair with all the ingredients you need to feel young and strong.
Usage
- It is recommended to take Kapilab Vitamins in doses of 2 capsules per day, being able to take up to 2 daily doses.
- They can be taken for an unlimited time, although their use can be alternated to 2 weeks off for every 3 months of use.
- The capsules should always be swallowed with water.
- Do not exceed the number of recommended capsules per day.
- Store the product in dry areas and that are at low temperatures.
- Do not ingest the product during pregnancy and / or lactation.
- Not suitable for children under 12 years old.
Ingredients
Vitamin C, Vitamin B5, Vitamin E, Zinc, Vitamin B3, Selenium, Vitamin A, Ginger, Biotin
Results
Your hair will look healthy and shiny after continued use of Kapilab Vitamins.