Identification and Ownership:
In compliance with article 10 of Law 34/2002, of July 11, on Services of the Information Society and Electronic Commerce, the Holder exposes his identification data.

Owner: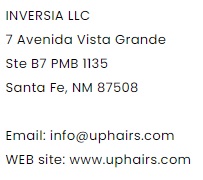 General information to comply with Law 34/2002
Uphairs cannot assume any responsibility derived from the incorrect, inappropriate or illicit use of the information that appears on the Internet pages of www.uphairs.com. Within the limits established by law, www.uphairs.com does not assume any responsibility derived from the lack of veracity, integrity, updating or precision of the data or information contained in its Internet pages.
The contents and information of the www.uphairs.com pages are obtained from the contributors and other news sources. However, the contents and information do not bind www.uphairs.com nor do they constitute opinions, advice or legal advice of any kind as this is merely a service offered for information and dissemination purposes
The pages of www.uphairs.com may contain links to other third party pages that www.uphairs.com cannot control. Therefore, www.uphairs.com cannot assume any responsibility for the content that may appear on third party pages.
All texts are the property of their authors and are protected by the Intellectual Property Law. Any act of transmission, distribution, cession, reproduction, storage or public communication, total or partial, must have the express consent of www.uphairs.com. All trademarks are the property of their respective owners.
Cookies
The use of our website requires the use of cookies. Cookies are used for the purpose of (tracking the purchase or visit of the user) if you wish you can configure your browser to be warned on the screen of the reception of cookies and to prevent the installation of cookies on your hard drive. Please consult your browser's instructions and manuals for further information.