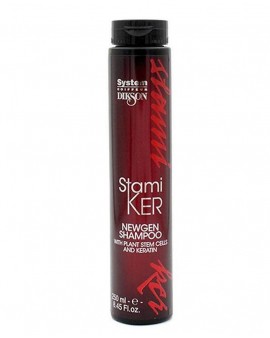  
Stamiker Shampoo
The Stamiker shampoo is composed of plant stem cells and keratin.
| | |
| --- | --- |
| - Regenerator. | - Anti-aging. |
| - Repairing. | - 250 ml. |
Description
Stamiker New Gen Keratin Plant Stem Cell Shampoo. This type of shampoo is regenerating, anti- aging and repairing, and offers a synergistic action of stem cells and keratin.
Mode of use
It can be used on all types of hair but it is specially designed for those people who need a structural repair and a deep regeneration of the hair.
- Apply on wet hair.
- Leave it to act.
- Rinse with plenty of water.
- Repeat the process as many times as necessary.
Result
The stem cells of which it is composed, reactivate the balance of the hair, as well as regenerate the hair from the roots. Keratin works by repairing and rebuilding hair from root to tip. You will get healthier hair and full of strength.