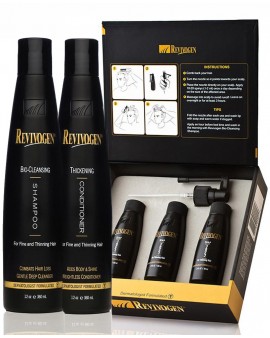  
Complete Revivogen Pack
The Complete Revivogen Pack is made up of Revivogen Treatment, Revivogen Shampoo and Revivogen Conditioner.
| | |
| --- | --- |
| - Natural ingredients. | - Dermatologically tested. |
| - Combats hair loss. |  - Hydrates the scalp. |
| - It is recommended to apply the three steps of the treatment. | - For men and women. |
Descripción
The Complete Revivogen Pack is perfect for those who suffer from hair loss. The action it has is to thicken fine hair, to remove fat from the scalp, to regenerate the hair and in addition to providing a series of vitamins and nutrients to the hair. It can be used by both men and women.

With the acquisition of this pack of products from Revivogen, you will get all the necessary items to carry out a 100% effective treatment for your hair, so that you will be able to clean it and fill it with nutrients to provide proper growth. The pack is made up of the following products.
- Revivogen Treatment: it is the main treatment against hair loss, a lotion designed to maximize the result with the use of totally natural ingredients.
- Revivogen Anti-oil Shampoo: if applied daily, it cleanses the scalp and helps fight baldness.
- Revivogen Conditioner is the conditioner designed to naturally solve problems related to falling.
Mode of use
This is how you should apply a complete treatment of Revivogen products:
- Shake well before using.
- Apply once a day between 1 and 2 ml in the desired and surrounding areas.
- Do not wash your hair in less than 3 hours.
- Apply again if necessary.
Ingredients
Acqua (Deionized Water), Decyl Polyglucose, Disodium Cocoamphodiacetate, Cocomidropropyl Betaine, aloe Barbadensis Gel ( Aloe Vera), Simmondsia Chinensis oil ( jojoba Oil), Cocoyl Sarcosine, Glycol Stearate, dimethicone, polyquaternium-4, Cyamopsis Tetragonolobus Gum, phanthenol, Hydrolyzed Silk, Allantonin, Ascorbic Acid, linolenic Acid ( Gamma and Alpha), Hydrolyzed Soy Protein, Zinc sulfate, linoleic Acid, Azelaic Acid, Pyridoxal ( Vitamin B6), Niacin, Serenoa Serrulata extract ( Saw Aplmetto), Menthol, Methylchloroisothiazolinone, methylsothiazolinone.
Results
It helps to control hair weakening as well as combat hair loss in men and women safely and effectively.
It helps to stop hair loss and stimulates healthy growth of new hair.
It promotes thicker, healthier hair from the follicle.
It is an effective remedy for men and women suffering from baldness problems.
Revivogen Shampoo is one of the most demanded by our clients. It contains ns ingredients that are a complementary part of the therapy for the scalp as they provide a sensation of minty freshness. Your scalp will feel fresher when you get out of the shower, as the shampoo stimulates circulation and opens pores.