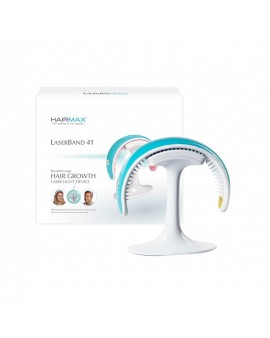  
Laser Hair Max 41 Comfortflex
Laser Hair Max 41 to treat hair loss.
- Flexible and adaptable.
- Light and wireless.
- Treatment time: 3 minutes.
- Clinically proven.

The Laser Hair Max 41 ComfortFlex is a device that you can use at home without going to specialised clinics.

Comfortflex is very light and adaptable to the size of your head. In just 3 minutes, 3 times a week, you will experience how your hair strengthens. Its 41 medium-grade lasers stimulate growth and prevent thinning hair.
Laser Hair Max 41 Comfortflex, can be used together with anti-fall treatments.

The kit contains:

- Laser Band 41.
- Charging cradle.
- Power cord..
- Rechargeable battery.
- User manual.
This product has a special shipping, so the delivery time varies within 48-72 working hours.
Mode of use
This product is clinically tested and its application is 100% effective. Just 3 minutes a day will be enough to start noticing the results.
Results
Most of users who are consistent with the recommended applications achieves positive results in just 16 weeks.