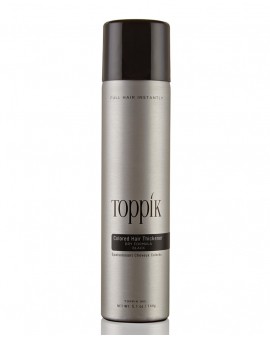  
Toppik Boost Volume Spray
The Toppik Boost Volume Spray thickens the hair from the roots using a dry, light and invisible formula. Due to its composition, it does not leave waste on your hair and provides a 100% natural result.
| | |
| --- | --- |
| - Easy application. |  - It hides baldness. |
| - No stains. |  - You save money with each application. |
| - It adheres to your hair. |  - Natural result. |
| - 4 colours available. |  - You can eliminate it just washing your hair. |
Description
The Toppik Boost Volume Spray is really similar to the Toppik Capilar Fibres but in spray format. The keratin is a natural component of our hair so the result is 100% natural and really convincing. Nobody will notice that you are using the Toppik Boost Volume Spray. 4 colours available to choose the one that suits you better.

You'll get the feeling that you have more hair and volume right after applying the microfibres to your hair. The clear areas of your scalp will disappear.
Mode Of Use
Shake the product before using it. Apply on the areas with less hair. Those will remain fixed for the whole day and night. This is the more efficient and secure way to hide your hair loss. It is been used by millions of men and women around the world.
- Shake before use.
- Apply on clean and dry hair.
- Comb your hair with the desired look..
- Keep the spray 20cm away from the area when applying.
Ingredients
Keratin, ammonium chloride, silica, DMDM ​​hydantoin. May contain: Orange 4 (CI 15510), Yellow 6 (CI 15985, Red 33 (CI 17200), Yellow 5 (CI 19140), Green 3 (CI 42053), Blue 1 (CI 42090), Red 22 (CI 45380) , Green 6 (CI 61570).
Result
Toppik is completely reliable and it has been dermatologically tested. The Capilar Fibres won't detach from your hair. They will remain the whole day and night thanks to their natural adhesion by static electricity. Rinse your hair to remove Toppik. If you want to adhere the fibres more you can use a hairspray. This is the result after using Toppik. By buying Toppik, you'll hide your baldness.