 
Toppik 12 + Applicator
Our Toppik Fiber Pack 12g + Applicator has the necessary accessories to achieve a 100% natural finish. The Pack has the following products: Toppik Hair Fibers 12g and Toppik Applicator.
| | |
| --- | --- |
| - Easy aplication. |  - It conceals baldness. |
| - It does not stain. |  - Duration approx. 1 month. |
| - Fiber adheres to hair |  - Natural result. |
| - 9 Colors available. |  - It´s removed by washing the head. |
Description
Toppik 12g Hair Fibres hide hair loss in men and women. Toppik's microfibres are made of natural keratin that bond to the hair using static electricity. Thanks to its effect, it will be able to cover the areas with little amount of hair in a 100% natural and totally imperceptible way.
Keratin is a natural component of our hair, so the result is 100% natural and very convincing. No one will notice that you use Toppik Hair Fibres. There are 9 colours of fibres available to choose the one that best suits your hair color.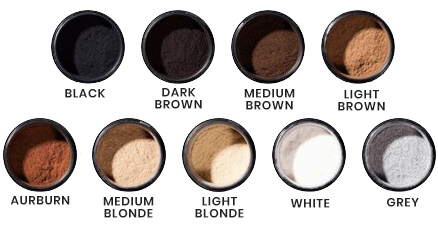 Trás aplicar las microfibras sobre su cabello, logrará la sensación de que tiene más cantidad y más volumen de cabello, desapareciendo las claridades del cuero cabelludo.
Mode of use
Shake the product before using it. Apply Toppik 12g Hair Fibers on the areas with lower hair density. These will remain fixed throughout the day and all night. It is the most effective and safest way to disguise hair loss used by millions of men and women worldwide.
- Shake before using.
- Apply with clean and dry hair..
- Comb the hair with the desired final look.
- Apply the Toppik fibres on the areas where you have thinner hair.

Ingredients
Kératine, chlorure d'ammonium, silice, hydantoïne DMDM. Peut contenir: Orange 4 (CI 15510), Yellow 6 (CI 15985, Red 33 (CI 17200), Yellow 5 (CI 19140), Green 3 (CI 42053), Blue 1 (CI 42090), Red 22 (CI 45380) , Vert 6 (CI 61570).
Results
Toppik is completely safe and dermatologically tested. The hair fibres won't come off your hair, keeping it for the whole day and a whole night thanks to its natural adhesion caused by static electricity. To remove Toppik, you should only wash your hair normally. Also, if you want to fix Toppik's microfibres even more, you can use a fixing lacquer. This is the result after using Toppik.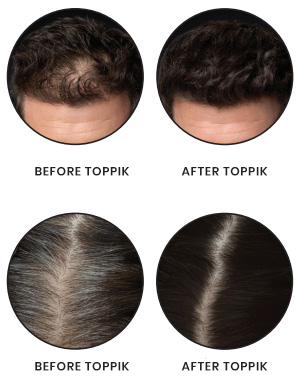 Reviews
By
David A.
(
Toppik 12 + Applicator
) :
Buen Producto
Los productos de toppik siempre son buenos.Y si se usan sus accesorios, se desperdicia menos fibras. Me encantan los packs de uphairs en productos de toppik, hay mucha variedad