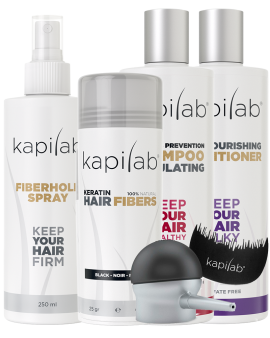  
Complete pack Kapilab 25g
This pack contains a 25g bottle of Kapilab hair fibers + Lacquer + Applicator + Comb + shampoo + conditioner.Kapilab 25g Hair Fibres hide baldness in a few seconds. They can be used by both men and women. Using Kapilab Hair Fibres 25g you will increase the thickness of your hair and add volume in those areas where hair is scarce.
| | |
| --- | --- |
| - Natural finish. | - Easy application. |
| - Dermatologically tested. | - Various Formats. |
| - Easy removal. | - Adheres to hair. |
Description
Kapilab 25g Hair Fibres hide hair loss in men and women. These microfibres are made of natural ingredients and their finish is 100% natural. Its formula is very effective since they are attached to the hair by means of static electricity and manages to cover the areas with scarcity of hair. Although mainly the function of the Kapilab 25g Hair Fibres is to cover the hair, they also add volume and density to fine and unhealthy hair and cover the roots in grey hair. Many people in the world trust this magnificent product to improve their self-esteem.
These fibres are composed of organic keratin, the same component as natural hair, a key aspect that makes the task of hiding baldness very easy. With their electrostatic charge they are in charge of adhering to our hair in a totally natural way, improving its appearance, increasing volume and thickness and achieving fantastic natural results after a quick and easy application of Kapilab hair fibres. On this page you have been able to see the multiple real successful stories about the use of Kapilab hair fibres. The difference between before and after leaves no doubt about the effectiveness and naturalness of the results. What are you waiting for to try it?