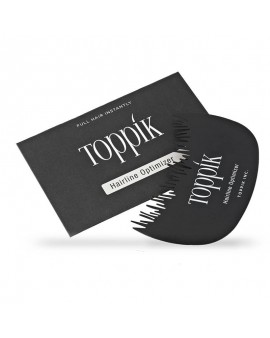  
Toppik Hairline Optimizer
Toppik Hairline Optimizer is a comb designed to apply Toppik Hair Fibres to the front of the head, helping to achieve a much more natural appearance by simulating the shape of the bangs.
| | |
| --- | --- |
| - Natural finish. |  - Easy to use.. |
| - For men and women. |  - For use with Toppik Fibres. |
Description
The Toppik Hairline Optimizer is placed on the front area of the head so that when we apply Toppik Hair Fibres, it gives us a much more natural effect and we will not stain our faces when applying the product.
That is why Toppik has developed Toppik Hairline Optimizer for the forehead line, the package contains one unit.
Uso
Using Toppik Hairline Optimizer is the ideal way to get the best results with Toppik. It is very easy to use.
- Apply Toppik Hair Fibres as usual.
- Use the Toppik Hairline Optimizer comb upwards and towards the forehead line.
Toppik Hairline Optimizer makes you instantly notice a better result in less time using less hair fibres. To achieve a more natural appearance on the forehead line, we recommend using the new Toppik Hairline Optimizer comb. You will achieve a smoother and more natural brow line.