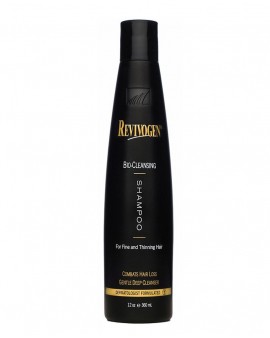  
Revivogen anti-oil shampoo
The Revivogen Anti-oil Shampoo is made up of natural ingredientes that provide freshness to your scalp. It is one of the few products that clinically helps to reduce DHT production by blocking it.
| | |
| --- | --- |
| - Natural ingredients. |  - Dermatologically tested. |
| - It eliminates the oil. |  - It hidrates the scalp. |
| - 360ml format. |  - For men and women. |
Description
The Revivogen anti-oil Shampoo absorbs the oil on your scalp and stops considerably the hair loss. It can be used for both men and women.
The Revivogen hair products gamut includes a series of anti-DHT products (the main toxin that causes hair loss). Due to this, Revivogen has become a relevant brand against hair loss. Revivogen products and more specifically, the shampoo, are used by many people with hair loss. It has an advanced circulation system that allows those products to act directly on the DHT, the main cause for hair loss, stimulating the follicles to regenerate a healthy scalp.
Due to this, Revivogen products are used by people with hair loss. A complete Revivogen treatment must be applied as follows:
- Revivogen treatment: it is the main treatment against hair loss. A lotion designed to maximise the result with 100% natural ingredients.
- Anti-oil Revivogen Shampoo: Daily use. It cleans the scalp and helps to fight baldness.
- Revivogen conditioner: it is the conditioner designed to naturally solve hair loss problems.
Mode of use
That's how you should apply the Revivogen treatment:
- Apply on wet hair.
- Massage and spread all over your scalp.
- Rinse with plenty of water.
- Apply again if necessary.
Ingredients
Acqua (Deionized Water), Decyl Polyglucose, Disodium Cocoamphodiacetate, Cocomidropropyl Betaine, aloe Barbadensis Gel ( Aloe Vera), Simmondsia Chinensis oil ( jojoba Oil), Cocoyl Sarcosine, Glycol Stearate, dimethicone, polyquaternium-4, Cyamopsis Tetragonolobus Gum, phanthenol, Hydrolyzed Silk, Allantonin, Ascorbic Acid, linolenic Acid ( Gamma and Alpha), Hydrolyzed Soy Protein, Zinc sulfate, linoleic Acid, Azelaic Acid, Pyridoxal ( Vitamin B6), Niacin, Serenoa Serrulata extract ( Saw Aplmetto), Menthol, Methylchloroisothiazolinone, methylsothiazolinone.
Results
The Revivogen anti-oil Shampoo is one of the most demanded by our clients. It contains ingredients that form the complementary part of the therapy for the scalp because it provides a mentol freshness sensation. Your scalp will feel fresher when you finish your shower because it stimulates blood circulation and it opens your pores.