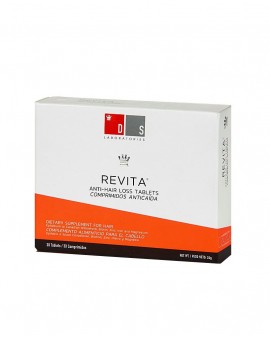  
Revita Tablets
Revita tablets is a food supplement that reduces hair loss by promoting hair growth. Thanks to the nutrients and antioxidants that form it, it keeps your hair healthy.
| | |
| --- | --- |
| - Vitamins for hair. | - Take 1 capsule a day. |
| - 30 capsules format. | - It extends the life of your hair. |
Description
Revita Tablets is a food supplement that provides the hair with ingredients that contribute to the normal synthesis of the proteins that form it, essential for its proper growth. Contains keratin, biotin and zinc.
Mode of use
- Take one tablet a day with water.
- Do not exceed the recommended dose per day.
- En fases de embarazo o lactancia, consultar consulte a un médico.
- In pregnancy or lactation, consult a doctor.

Ingredients
Melatonin *: Powerful antioxidant and growth modulator that attenuates oxidative stress in hair follicle cells, prolonging the anagen phase and delaying the telogen phase. β- Sitsterol: Inhibits 5α-reductase. Daidzein and Biocanine A: Isoflavones from soybean and clover extracts that inhibit 5α-reductase and have an anti-inflammatory effect. Furthermore, Daidzein is a powerful antioxidant. Vitamin D: Strengthens hair (lack of Vitamin D can lead to hair loss.Biotin and Zinc and Iron mineral complex: essential for the metabolism of the hair follicle.
Result
- It regenerates growth.
- It nourishes and strengthens the hair.
- It revitalises the hair.