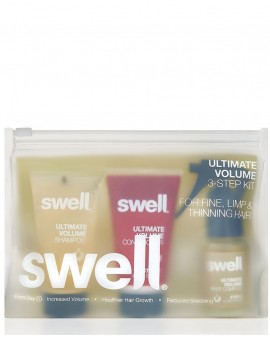  
Travel Pack Treatment Swell
Get your hair thicken and turn it into healthy hair with this unisex 3-step treatment from the Swell brand. Really amazing results from the first application.
| | |
| --- | --- |
| - Nourishes the hair. | - Increase the volume |
| - Easy transportation. | - 50, 50 and 25 ml. |
Description
Complete 3-step Swell system consisting of:
- Sweel volumizing shampoo 50 ml (Step 1).
- Swell Conditioner 50 ml (Step 2).
- Complete nutrients for roots 25 ml (Step 3).
Mode of use
Make sure to follow the instructions to obtain the ideal results with the Swell Treatment Pack.
- After the shampoo, apply the swell conditioner all over the hair, leaving it to act for the recommended time.
- After the recommended time, remove the product with plenty of water after rinsing it completely.
Ingredients
Composed of 97% natural ingredients, it provides vitamins and minerals to maintain optimal follicles and thus achieve healthy hair growth.
Result
Using the Swell Treatment Pack, you will be able to provide the hair and scalp with the necessary substances to prevent excessive hair loss.
- It makes the hair grow healthy
- It nourishes the hair.
- It provides shine.