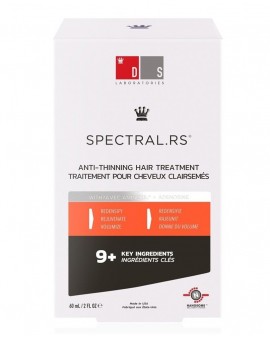  
Spectral RS
Spectral RS is a Treatment designed for both men and women who have fine hair without volume.
| | |
| --- | --- |
| - Prevents fall. | - Thicken hair. |
| - Revitalises the follicle. | - 60 ml. |
Description
Spectral RS is a treatment designed for both men and women with fine hair. It does not contain chemicals and improves the quality of our scalp. This product is designed for people seeking a treatment that does not contain Minoxidil. It is very easy to apply and improves the scalp. Male pattern baldness and widespread hair loss are two conditions that are closely linked to each other. The Spectral RS treatment works by treating the multiple causes that lead to thinning hair, such as peripheral fibrosis and internal factors such as stress, hormonal disorders, lack of vitamins and mineral salts, and the use of certain medications .
Use
Follow these instructions for use to use Spectral RS:
- Always use with clean and dry hair.
- Apply around 10 sprays or more in the area where we have fine and weak hair.
- Do not rinse, leave to act.
- It can be used together with other anti-fall treatments.

Ingredients
Spectral RS contains Deionized Water, Lupine Protein Hydrolyzate, Panax Ginseng Root Extract, Adenosine, Butylene Glycol, Aminexil, Phospholipids (Nanosomes), Acetyl Tyrosine, Ppg -26- Buteth -26, Arctium Majus Root Extract, Soy Protein Hydrolyzate , Procyanidin B2, Polyquaternium - 11, Peg 12 dimethicone, cetrimonium chloride, calcium pantothenate, apigenin, Ethanol, Isolaureth -5, zinc gluconate, taurine, GHK -Cu (copper peptide), niacinamide, oleanolic acid, ornithine HCL, citrulline, retinol and glucosamine. It is evident that the formulation does not contain chemical additives and that it has a very small concentration of minoxidil.
Results
Clinical studies show that Spectral RS is very effective:
- Spectral RS is a pleasant treatment to apply, which improves the general condition of the scalp, giving the necessary conditions for totally healthy hair to grow.
- Designed for people looking for a highly effective treatment which does not contain minoxidil.