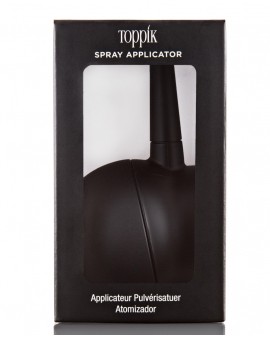  
Toppik Spray Applicator
The Toppik Spray Applicator will improve the results you have with Toppik from the first time you apply.
| | |
| --- | --- |
| - Greater precision. |  - Compatible only with Toppik 12g and Toppik 27.50g formats. |
| - Ideal for adding volume to certain areas of the hair. |  - Natural Result. |
Descripción
The Toppik Applicator allows you to use Toppik in a much easier way. Using this product will allow you to have a much more natural appearance. The fibers disperse evenly and precisely. With this precision you will realize that you do not need to use as much Toppik, therefore you will also benefit economically.
Mode of use
Take the bottle of Toppik Hair Fibers, either regular size (12 gr) or large size (27.50 gr) and remove the cap (The applicator cannot be used with Toppik 3g and 55g bottles)
The product comes out when you press the ball, and this allows Toppik to spread perfectly on your hair. You will see that the fibers are evenly distributed and that you have better control of placing the fibers in your hair.
- To bulge out certain areas, insert the nozzle into your hair and gently apply the spray. This will allow you to disperse the fibers giving it a natural and abundant hair appearance.
- The Toppik Applicator is perfect for filling the forehead line. For best results, use the Toppik Hairline Optimizer, which will allow you to have a perfectly natural forehead line, naturally accentuating the way your hair grows.
Results
After using the Toppik Applicator, you will notice a 100% natural and bulkier finish than if you use the hair fibers without accessories.