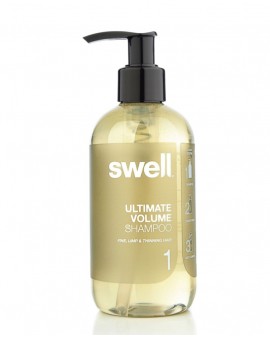  
Swell Volumizing Shampoo
Volumizing Swell Shampoo is designed to give volume and thicken fine and thinning hair. Thanks to its 97% composition of natural ingredients, you will achieve a maximum feeling of cleanliness after each application. Hair remains clean longer.
| | |
| --- | --- |
| - It nourishes the hair. | - It cleans it deeply. |
| - It provides volume. | - 250ml. |
Description
From its first use, it provides the follicles with nutrients to harden them and prolong the life of each hair, increasing its volume and improving its health. This type of anti-fall shampoo can be used by both men and women and for all types of hair. It does not contain chemicals. It provides a fresh and pleasant aroma. It has a 250 ml format which lasts approximately from 4 to 6 weeks.
Mode of use
It can be used on all types of hair but it is specially designed for those people who need a structural repair and a deep regeneration of the hair.
- Brush the hair before washing it.
- Wet the hair from the roots to the ends.
- Apply the amount of shampoo you need for your hair type in the palm of your hand, massage the shampoo with your fingers on the scalp. Massage until foamy.
- Rinse it immediately, again applying the water to the roots to ensure that you remove all the shampoo from your head.
Repeat all the steps again if you need a second wash.
Ingredients
Thanks to the fact that it is made up of 97% natural ingredients, you will get a maximum feeling of cleanliness after each application. Hair lasts clean longer.
Result
By using the Swell Volumizing Shampoo you will make your hair grow healthy, nourish it and make it shine.