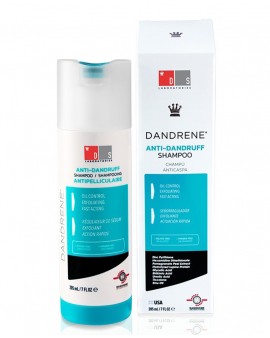  
Dandrene anti-dandruff shampoo
Dandrene Anti-dandruff shampoo eliminates dandruff and prevents its appearance on the scalp.
| | |
| --- | --- |
| - It eliminates fungus. |  - It eliminates dandruff. |
| - It antimicotic technology. |  - It eliminates the oil on the scalp. |
| - 180ml format. |  - For men and women. |
Description
DS Laboratories launches Dandrene anti-dandruff shampoo, a shampoo that eliminates and stops dandruff appearance and the oil on your scalp.

The main characteristics of this shampoo are:
Antimicotic technology eliminates the fungus that generate the oil on your scalp.
It dries and eliminates the oil excess that feed the fungus.
It provides nutrients to our hair that repair and regenerate it.
Mode of use
The shampoo is easy to apply and it is compatible with any other anti-fall treatment.
- Apply on wet hair.
- Leave to act around 2-3 minutes.
- Rinse with plenty of warm water.
- Apply 3-4 times per week.
- Use at least for three months to obtain the best result.
Ingredients
- Manuka and willow complex.
- Climbazole: eliminates fungi that generate scales on the scalp.
- Pomegranate extract, which provides our scalp and hair with properties that regulate epidermal difference. It also regulates the speed of flaking and strengthens the area where it has said flaking to avoid the formation of dandruff. All the mentioned components help to stop the appearance of dandruff and eliminate the one that exists on the scalp.
Results
The Dandrene shampoo calm the discomfort on your scalp caused by seborrhoea and the dandruff problems. To obtain a softer result and more volume, you can comb your hair right after the product dries.