Laser Hair Max Ultima 9 Classic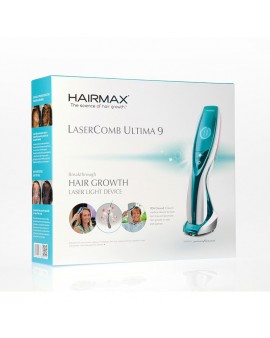 View larger
Hair recover | Prevent hair loss | Haircare
Customer ratings and reviews
Laser Hair Max to treat hair loss..
- Applicable on the whole scalp
- Lightweight and wireless
- Treatment time 11 minutes
- Clinically proven

This laser can be used at home by yourself as it´s the only device that the FDA approves to combat and paralyze hair loss.

Its use is simple and 100% effective. It´ll be enough the application of 11 minutes a day of laser to begin to notice the improvement of your hair.

Its function is to revitalize the hair follicles and stimulate hair growth. Its 9 medium grade lasers make this possible. The application of this laser, slows hair thinning and promotes natural hair growth
Most people who are consistent with the recommended applications, get positive results in just 16 weeks.
Laser Hair Max Ultima 9, puede ser utilizado con otros tratamientos anticaida.
The kit contains::

- Laser Ultima 9 Classic.
- Load support.
- Power cord.
- Rechargeable battery.
- User Manual.
This product has a special shipment, so the delivery time can be between 48-72 working hours.