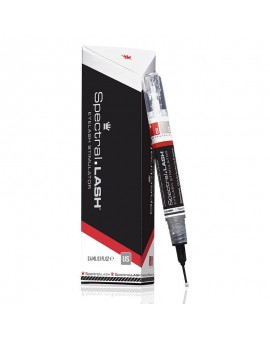  
Spectral lash stimulating
Stimulating for eyelashes growth. Thanks to its innovative peptides complex, it guarantees its growth, getting longer and abundant lashes in just 4 weeks.
| | |
| --- | --- |
| - Clinically tested. | - No Bimatoprost nor latanoprost. |
| - Easy application.  | - 2.4ml. format. |
Description
SpectralLash® represents the newest advance in biotechnology for lashes growth. It has been created for the hypotrichosis treatment or any deficiency in the length, quantity or density of the lashes.
Mode of use
- Make sure that your face is 100% clean of make up before using this product. Press the dispenser button. Apply carefully on the skin of the superior eyelid as if you were applying an eyeliner. Do the same on the inferior eyelid.
-If it gets into your eye, it won't cause any damage. It can only cause a light irritation. The eye must be washed.
- After some weeks using it, you can apply it daily, maintaining the result.
- For a total hygiene, do not share your Spectral Lash with any other person. With this, you'll avoid the possibility of getting an ocular infection. Be really careful when applying it to avoid eye injury.
Ingredients
Adenosine: Prolongs the anagen phase and decreases the telogen phase of the eyelashes. It thickens and stimulates its growth. Peptide complex: Stimulates the expression of keratin genes, in addition to promoting optimal conditions for their growth. Nanosomes: Increases absorption, better results in less time. Vitamin complex: Protects and stimulates the appearance of new eyelashes.
Results
For better results, apply Spectral LASH twice a day (morning and evening).